The Haskovo dancers from "Zlatna Trakia" enchanted Shatura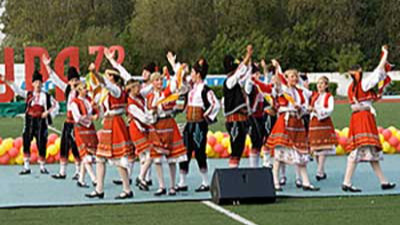 09.01.2023 | Zlatna Trakia
"The concerts of the ensemble "Zlatna Trakia" turn into an exciting spectacle, filled with beauty and richness of colors, with joy, sincere children's smiles and youthful temperament" - such are the reviews on the official website of Shatura from the presentation of our dancers in twinning with Haskovo Russian city.
It is recalled that the visit of our folklore ensemble in the Moscow Region from September 3 to 10 took place within the framework of the signed Agreement on cooperation and fraternal ties between the Shatura region and the Haskovo region.
The history and successes of "Golden Thrace" are the main focus of the extensive article about the visit of our delegation to Shatura. It states that the Haskovo dance ensemble "propagandizes the glory of Bulgarian folklore not only at home, but also abroad", proof of which is its many awards and invitations to rankings at world-famous festivals.
In addition to a meeting with the head of the Shatursky district Andrey Keller, the Bulgarian delegation's rich program included visits to local companies, media, schools and cultural institutions, concerts by creative groups from the twinned city and excursions to Moscow, Vladimir-Suzdal and Kolomna. The material on Shatura's website ends with the wish: "See you soon, our Bulgarian friends!"
Dora Aneva | 12.09.2008 | haskovo.info